We're going VIRTUAL!
Right now, more than ever, we need the right strategies…
The connections… The audience… And the motivation to secure and scale our businesses…right?
But for many of us, these uncertain times have FORCED a lack of movement, travel, networking and growth in our businesses…
And for so many entrepreneurs, the last 6 months have been super difficult…
It's caused all types of problems, most of which we had NO control over!
It seems like the ONLY thing we can control is how we react.
But here's the thing…
How we react is determined by what we know…Right?
We need to know:
How to SELL our products and services online…
How to find our VOICE, and get our message of the things we're most passionate about out to the world…
How to build deeper relationships with our audience
How to ADJUST to the new economy.
That's Why We Created "Two Comma Club LIVE"!
What exactly IS "Two Comma Club LIVE"?
It's a 3-day immersive conference that I will be streaming from our offices here in Boise, Idaho…
And we're also going to stream presentations from some of the TOP RATED speakers from Funnel Hacking LIVE!
We hand selected the presentations that had the BIGGEST impact to our 5,000+ Attendees at FHL, we pulled these presentations out of the vault, and we're going to stream those SAME PRESENTATIONS to you LIVE!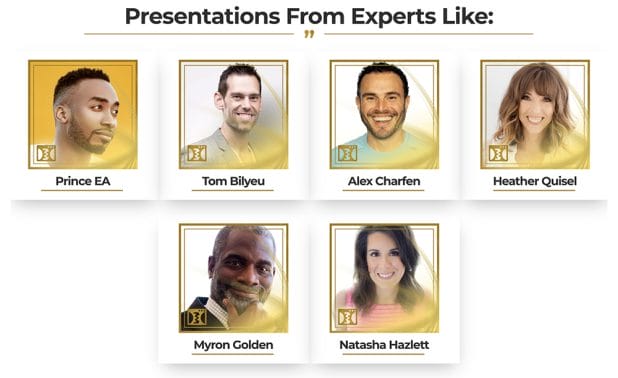 Most of you have NEVER seen these incredible presentations before!
If you missed these presentations at FHL… you'll want to make sure you don't miss this ONCE IN A LIFETIME chance to hear the presentations that had the BIGGEST impact to our Funnel Hackers. The only way to access these training sessions was to attend our previous Funnel Hacking LIVE events.
And if you have attended Funnel Hacking LIVE and heard these presentations before, you'll definitely want to sit down with a notebook and watch them AGAIN!
You're in a different place in your business now…
Which means, you'll be watching each session through a completely different LENS than before…
And you'll be searching for (and paying attention to) different solutions…
So…whether you've seen some of these presentations LIVE at one of our events, or if it's your first time…
…it's SO important to watch these with a pen and notebook handy, so you can pull different "a-ha's" that you can implement from each session!
Want to get a taste of what we'll be covering each day?
Who Is The "Two Comma Club LIVE" Conference Created For?
Now you might be wondering who "Two Comma Club LIVE" is for…
Well, it's for what we call the 1% Crazy.
Now by Crazy I don't mean people who like pineapple on pizza… (that's disgusting)
It's for those who feel like their business is a calling… and that they want to change the world…
It's for those who know they NEED to grow their company online, impact their customers lives, and provide for their loved ones.
The ones who get excited to learn about marketing, personal development and modelling what success looks like.
​Those who want to win a two comma club award… and have two comma's worth of impact.
If that sounds like you… then welcome to the 1% crazy, this conference was created for YOU!
Course Page: Russell Brunson – Two Comma Club Live
DOWNLOAD NOW
This content is locked For Paid Members Only
Sign Up to see all our download links and hidden content.
100% Satisfaction Guaranteed

Download as much as you need

You can choose from two membership options:

Lifetime or Monthly

Starts at $9.99