Molly Pittman – Train My Traffic Person 2020
Learn how to grow any business with Facebook ads.
Join Molly Pittman's 4-month mentorship program to get hands-on coaching in how to become a successful media buyer.
16 weeks of strategy sessions plus over 50 new how-to implementation tutorials
New resource library, with step-by-step worksheets and fill-in-the-blank templates to guide you through every module.
Hands-on coaching and live feedback calls with professional media buyers who run millions of dollars in paid traffic.
Connect with your fellow students and expert coaches in our private Facebook group, so you never feel left behind.
"Not only during this turbulent time was I able to survive, but I thrived and that was due to the help and skills I learned in TMTP! Thanks guys you completely saved my business!" – Caroline
"In my first 30 days we were seeing far better ROAS than we were paying multiple different agencies to do some media buying for us last year. So an entire year of multiple agencies not being able to create success from us then after 30 days and the training from Train My Traffic Person I have been able to just destroy the previous metrics we were using and create so much success for our company." – Casey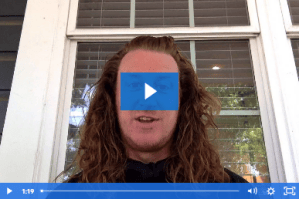 " I am now 10 months into running my agency and at first it was so difficult because there is so much information and Facebook is changing all the time. It really wasn't until TMTP until I really felt confident that what I was doing was the right thing." – Brooks
Hi, I'm Molly!
And becoming a professional media buyer completely changed my life.
When I decided to learn digital marketing, I was a bartender in Kentucky and I didn't even know what paid traffic was.
Today, I've overseen million in ad spend and taught thousands of marketers how to improve their advertising and push their careers forward.
So how did I manage to succeed in a crowded industry that's constantly evolving?
I got a mentor! Back in 2012 I started working with Ryan Deiss, who showed me the ropes and taught me how to think like a marketer. I spent thousands of hours sharpening my skills and millions of dollars running ad campaigns.
From there, I developed my 9-step traffic system and helped 4x the company on my way to becoming Vice President. (Not bad, huh?!)
But it wasn't until I started teaching Train My Traffic Person that it finally hit me: while media buying is my craft — and I love it — teaching is my passion.
So in 2020, when Ezra Firestone asked me to be the next CEO of Smart Marketer, I jumped at the chance to make education a larger part of my life and mentor a new generation of advertisers.
Now, I want to teach you my proven traffic system so you can win as a media buyer in any industry or market.

Introducing…
The NEW Train My Traffic Person
A hands-on, 16-week mentorship program rebuilt from the ground up for 2021.
The new Train My Traffic Person Mentorship combines 15 weeks of live strategy sessions with over 50 streamable how-to videos and a full library of brand-new templates and worksheets. There's never been a better way to learn the complete skillset of a master media buyer.
But TMTP is more than just information… It's a promise: I am 100% committed to your success, and I'll do everything I can to ensure you get as much out of this training as possible.
How This Mentorship Will Help You Succeed
Molly… That's me! I'm one of the industry's most sought-after media buyers and educators, and I'm honored to be your mentor for the next 16 weeks.
[NEW] Expert Coaches – To give you even more attention and guidance, we expanded our team of traffic pros. (All coaches have experience managing $1,000+ in daily ad spend!)
[NEW] Updated Curriculum – 25 sessions and over 40 hours of content, updated to reflect iOS 14 and other changes to the traffic landscape in 2021.Weekly action items to hold you accountable and help you reach your goals.
[NEW] 50 How-to Videos – Detailed implementation tutorials to help you set up, launch and manage your campaigns.
[NEW] Resource Library – More fill-in-the-blank worksheets and templates to guide you through every module (the same resources I use on a daily basis).
Q&A Sessions – Each week, get answers to your questions and expert feedback on your work to accelerate your progress.
Private Facebook Group – Get support from your peers, and reach out to our TMTP Coaches anytime you have a question.
Limited Class Size – All media buyers are different; that's why we limit the number of students so we can give you what you need to succeed in this program.
A show of hands:
who wants to beat rising costs, diminishing returns & changing platforms?
I know I can't be the only one with my hand up!
As media buyers, we rely on our ability to ROI on our ad spend — not sometimes, not that one time, but all the time.
iOS 14 will change advertising forever. In 2021, Facebook is making the most dramatic changes to their platform in six years, and everyone — including me — is having to adapt…
And that's a good thing! It means more opportunity for you in whatever market you're in. But as we lose crucial in-platform data, most people will fail to see results.
Here are the biggest challenges media buyers face in 2021:
CHALLENGE 1:
"I'm new to Facebook, and I'm struggling to get traffic or make online sales."
CHALLENGE 2:
"My ads were working, but now they're not! What ongoing maintenance should I do to keep my campaigns from going cold?"
CHALLENGE 3:
"I don't know how to adapt to iOS 14. The strategy I was using to stay profitable is now obsolete."
CHALLENGE 4:
"My ads keep getting shut down! The volatility of Facebook is really hurting my bottom line."
CHALLENGE 5:
"I have a small budget. How can I run ads without losing a lot of money on trial and error?"
But when I give a consultation or start with a new client, I see that their real problem is almost always the same: a lack of process.
Which is great, because I know that I can offer a solution: my 9-step traffic system (which I've crafted over thousands of hours), gives media buyers a way to consistently build, scale and manage profitable campaigns.
Here is the structure that I add to their paid traffic strategy to help improve their results:
My 9-step Traffic System
STEP 1:
Setting the Strategy to make sure you know what success looks like and the pathway there
STEP 2:
Crafting the Offer so customers are excited to get your product (and give you money).
STEP 3:
Defining the Who & Why to connect with your prospects and speak to their pain points.
STEP 4:
Ideating Campaign Assets to create engaging experiences that catch the eye of your ideal customers.
STEP 5:
Creating Campaign Assets to turn your vision into a reality, and adapt your concepts to the ad platform(s) you leverage.
STEP 6:
Build and Launch Your Campaign so you can TEST whether or not your assets and offer work in the real world.
STEP 7:
Analyzing the Results to figure out if you've got a winner on your hands or if you need to go back to the laboratory and tinker.
STEP 8:
Optimizing the Campaign to make sure that you can profitably scale by fixing assets, messaging and targeting.
STEP 9:
Scaling the Campaign when you've had a successful test to turn the customer acquisition faucet on and skyrocket your business.
And in Train My Traffic Person I teach you this structure step by step, so you can profit from your ad spend no matter what else is going on in the traffic landscape.
All YOU need to do is commit to learning and implementing the material.
Course Curriculum
This is the media-buying program that I always wished existed. I built the curriculum from the ground up, with a training session and a Q&A session each Lesson so you get both the information and the support that you need.
Lesson 1
Think Like a Media Buyer
Learn the 8-step process that I use to be a successful media buyer (and how to avoid painfully common mistakes).
Lesson 2
Acquisition Funnels with Ezra Firestone
Ezra gives a masterclass on front-end sales funnels for info products, local businesses, Saas businesses and more.
Lesson 3
Structuring Your Facebook Campaigns
Learn how to navigate Facebook's platform and choose the right campaign structure, objectives, budgets, and bidding strategy.
Lesson 4
Customer Avatars & Laser Targeting
Define your business avatars, determine their intent and master targeting strategies to find them on Facebook.
Lesson 5
Writing Compelling Ad Copy
Learn to write for your avatars and speak to their pain points, leveraging a ton of my fill-in-the-blank templates to get you started.
Lesson 6
High-Converting Ad Creatives
Learn my process for producing great ad creative, including pairing visual with ad copy and what images build social proof.
Lesson 7
Launching Your Campaign
The moment of truth! Combine the assets you created in the first six lessons and launch your winning Facebook campaign.
Lesson 8
Campaign Optimization
Learn to improve your campaigns with precision by deducing exactly what's broken, and the solutions for common (and rare) problems.
Lesson 9
Retargeting Campaigns
Master one of the most powerful ad types and learn how to reach back out to site visitors and warm audiences to close the sale.
Lesson 10
Traffic & Analytics with John Grimshaw
Discover the What?, Why? And How? of tracking data, and how to use this information to make informed media buying decisions.
Lesson 11
Horizontal & Vertical Scaling
Become an expert at scaling by learning the two most powerful methods, horizontal and vertical, and when to use each.
Lesson 12
Messenger Marketing & Chatbots
Attend a virtual 'bot boot camp' where you'll learn how to market via messaging apps, including a ton of proven campaigns you can deploy.
Lesson 13
YouTube with Tom Breeze
Take your newfound media buyer skills to one of the fastest growing traffic platforms with short, impactful videos for powerful retargeting.
Lesson 14
Google Ads with Mike Rhodes
Expand your reach and skillset by learning how adapt your newfound media buying skills to focus on intent, rather than interests.
Lesson 15
Becoming a Media Buyer
Learn Molly's proven strategies for taking your newfound skills to the market as a in-house media buyer, a consultant, or an agency.
Meet the TMTP Faculty
Ezra Firestone
Ecommerce Expert
Ezra is considered one of the top authorities in ecommerce, and built a $20 million/year physical products brand from the ground up. Through Smart Marketer he offers digital trainings for do-it-yourself business owners, and through Zipify Apps, he creates software to help Shopify sellers generate more revenue.
John Grimshaw
Analytics Expert
John teaches marketers how to track and analyze their data so they can make informed business decisions. He's the former Marketing Operations Manager for DigitalMarketer, and a Co-Founder of DigitalStrategyBootCamps.com, where he specializes in website analytics and KPI management.
Tom Breeze
Google & YouTube Expert
Our go-to expert on everything Google and YouTube (with a focus on video advertising), Tom helps us diversify our traffic sources by branching out to these extremely profitable yet underutilized platforms, He's the CEO of Viewability and a Director with Video Results Ltd.
Mike Rhodes
Google Ads Expert
Mike's in his 15th year of creating profitable Google Ad campaigns for global businesses and is the co-author of the world's best selling book on Google Ads 'The Ultimate Guide to Google Adwords'. He's the CEO & Founder of WebSavvy, recently named by Google as one of the top 18 agencies in the world. As well as being in the trenches with his team, he teaches a few hundred digital agencies to scale via his teaching site: AgencySavvy.com

Our Private Community
Need help with a campaign, have a strategy question, or just want to talk shop? Members of the Train My Traffic Person Mentorship course get access to a private Facebook group to help you keep in touch with Molly & the rest of the class, so you can get answers when you need them.
This industry isn't just about what you know, it's also about who you know and what they know… so get in there and rub elbows!
Access my expertise anytime you have questions about the training.
Find course updates, training recordings, worksheets & other resources.
Stay connected to the rest of your class for motivation, inspiration & support.
Grow your network — this is an essential part of a media buyer's toolbelt!
Who is This Program For
This training is for anyone who wants to learn the art of paid traffic, or sharpen the skills they already have.
New Media Buyers
Avoid the costly process of trial and error. This course will give you an A-Z traffic training that will put you light-years ahead of most media buyers. (Lucky you! I wish I'd found this when I was just getting started.)
Hear from Jamella Bailey, a newer media buyer
Advanced Media Buyers
This course is perfect for pros looking to sharpen their skills. You know how valuable it is to improve even one small part of your process, and I guarantee you will get a ton of new strategies to improve your ROI.
Hear from Anneline Breetzke, an experienced media buyer
In-house
Whether you're the owner or a team member, having a capable media buyer in-house is incredibly valuable. Without a profitable ads strategy, it can be almost impossible to grow; with the wrong one, you can make a lot of very costly mistakes.
Hear from Kelli Bhattacharjhee, a blogger & business owner
Freelance / Agency
In my experience, most clients won't give you a lot of time or many opportunities to start delivering the goods. TMTP will help you communicate better with your team, get bigger wins and keep more accounts.
Hear from Camilo Parra, an agency owner
Ecommerce, Info, Services & SaaS
In my ad agency, I use this same exact traffic strategy for all my clients no matter what industry they're in, so I can guarantee that the techniques in TMTP are effective in all of them. The content of your campaigns might change, but the forces of media buying don't!
Hear from Jason Daemar, ecommerce brand owner
Member Bonus #1
Team Traffic: 1-month Membership
After you complete TMTP, you get BONUS access to Team Traffic, the #1 group for media buyers who want ongoing education, resources and support to help them succeed.
Copy My Campaigns – Over-the-shoulder videos of Molly building her latest campaigns for 5 of her clients
LIVE feedback call with Molly – Submit your ads, audiences, budget, creative, and anything else you want help with, and Molly will provide you with personal feedback.
"Ad-Sumer Report" – Compiled by our in-house researcher, this 100+ page report is a deep analysis of the month's top Facebook ads, placements and offers.
Team Traffic Facebook Group – This high-level club of media buyers is your go-to place for answers, motivation and inspiration.
Team Traffic Newsletter – Get the scoop on what's changing in Facebook, Instagram, Google & YouTube — everything that's affecting your business, all in one place.
Member Bonus #2
Zipify Pages: 3-month Membership
Become a member of TMTP and get a BONUS membership to Ezra Firestone's amazing Shopify landing page builder.
Create custom landing pages for your campaigns, or use templates from Ezra's top-performing funnels.
Get all the best page elements for ecommerce at your fingertips, including scarcity timers, one-click lightboxes & Shopify's dynamic product connection.
Enjoy all of Zipify Pages' premium features like split testing, Shopify blog integration & a full data dashboard.
Member Bonus #3
3 Business-Changing Blueprints
Become a member of TMTP and get access to 3 Blueprint courses and build powerful marketing assets.
The Ambassador Blueprint will teach you how to collect powerful user-generated content.
Copy our most successful ad template and grow your reach with an ambassador network.
The YouTube Kickstart Blueprint will help you profitably scale your winning Facebook ads on YouTube.
Diversify you traffic spend and reach brand-new audiences with your proven assets.
The SMS Marketing Blueprint will show you how to break into this explosive new channel.
Meet potential customers where they are because 79% of consumers (of all ages) want to hear from brands by text.
Join Now
Train My Traffic Person Mentorship 1 Payment of
Our proven media buying training course – 16 weeks of live strategy sessions, plus over 50 how-to implementation tutorials
Molly's 9-step Traffic Engine for planning, launching, optimizing and scaling campaigns
New resource library of step-by-step worksheets and fill-in-the-blank templates to guide you through every module
Molly's daily, weekly and monthly checklist for campaign health and account management
16+ Q&A sessions where you can go deeper into each lesson & get weekly feedback to accelerate your progress
A Hands-on mentorship with Molly Pittman, with personal feedback from our team of professional media buyers
Access to a Private TMTP Facebook Group where our team of expert coaches answer your questions and help you work through any blocks
BONUS: 1-month Membership to Team Traffic
BONUS: 3-month membership to Zipify Pages
BONUS: Access to Ambassador Blueprint
BONUS: Access to YouTube Kickstart Blueprint
BONUS: Access to SMS Marketing Blueprint
Molly Pittman – Train My Traffic Person 2020 Contains: Videos, PDF's
This content is locked For Paid Members Only
Sign Up to see all our download links and hidden content.
100% Satisfaction Guaranteed

Download as much as you need

You can choose from two membership options:

Lifetime or Monthly

Starts at $9.99
[/ihc-hide-content]