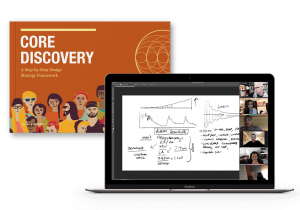 Jose Caballer – CORE Discovery
Why do you need a discovery session?
When a client approaches you for a design project, you jump straight into the work. Deep into the project, you realize what many of us in the industry have experienced—endless rounds of revisions and loss of control in your process.
You have to learn what's important to your clients.
Your client is coming to you not because they want something designed, but because they need a problem solved. Asking the right questions will guide you to the answer, and give your client the chance to share their goals and expectations.
This is where CORE Discovery steps in.
CORE Discovery is a collection of 6 key exercises designed for you and your clients to get aligned on the vision. It empowers you to hold discovery sessions that will turn you into an unparalleled strategic leader and valued partner to your clients.
A simple way to help any business understand, prioritize, and focus on a clear vision and plan.
Work Together
These exercises allow you and your client to work together to devise a solution. Speak to your clients in a whole new way.
Build Amazing Brands
Go beyond the logo. Define what makes your client's brand different and worth noticing.
‍Clarify and Focus
Align on the design direction from the first meeting. Keep the project moving on task and on track.
Everything you need to execute your next discovery is here:
Discovery Templates
Client Strategy Session Videos
6 CORE Discovery Wall Printouts
6 Key Exercises
Q&A Webinar with CORE Discovery creator, Jose Caballer
Take a peek at what's new in CORE Discovery.
I didn't always have the answers. But CORE Discovery has changed that.
Like many of you probably did, I went to art school and got a degree in graphic design. I didn't learn how to negotiate, or talk strategy with clients.
When I launched my first digital agency in 2001, I knew I wanted it to be different from other agencies at the time. But I had some setbacks in the beginning.
Every area of the business was a learning curve. I had no idea how to incorporate strategy into the creative work. I remember even Googling the word "strategy" on a phone call with one of our first clients.
See, in design school, we were trained to do the making, not the strategy. Each time clients handed us a brief, we'd put something together that fit the specifications. But almost every client would have us run back and forth to the drawing board because what we made "just wasn't there."
After many, many loops, it hit me: I didn't have context into their own strategy.
How could I understand what they wanted and needed? How could I understand their problems just from a piece of paper? Without the right questions or context, I couldn't.
That was, until, I created CORE Discovery. I started driving the strategy process for clients and getting crystal clear context. I sat down with clients and asked them what problem they were currently facing. Soon enough, the revisions shrank, the relationships grew stronger, and the work got better.
It's a habit of designers to fall into the aesthetics of things. I know because I've done this so many times before.
But now with CORE Discovery, I get clients and stakeholders aligned from the first meeting, I have a clear understanding of their pain points, and I'm able to produce a plan that exceeds their goals.
This framework has become a vital piece of my process, and my hope is that it does the same for you, too.
This guidebook is for anyone working in client-facing engagements
For the freelancer, studio owner, or creative director, CORE Discovery will help you become a better facilitator and run in-depth discovery sessions. This guidebook was made for you:
Graphic Designers
Web Designers
Brand Strategists
Creative Directors
The Advanced Strategy Bundle
CORE Discovery is a classic, but it's just the start. With the Advanced Strategy Bundle, you get an additional 23 Pro call videos discussing the material in greater detail.
CORE Discovery Strategy Kit ($489)
Advanced Strategy ($325)
23 Pro Group calls about:
Selling Strategy
Facilitation Tips
Defining Brand Attributes
User Profiles
User Journey Mapping
Course Size: 4.71 GB
Download Links
This content is locked For Paid Members Only
Sign Up to see all our download links and hidden content.
100% Satisfaction Guaranteed

Download as much as you need

You can choose from two membership options:

Lifetime or Monthly

Starts at $9.99